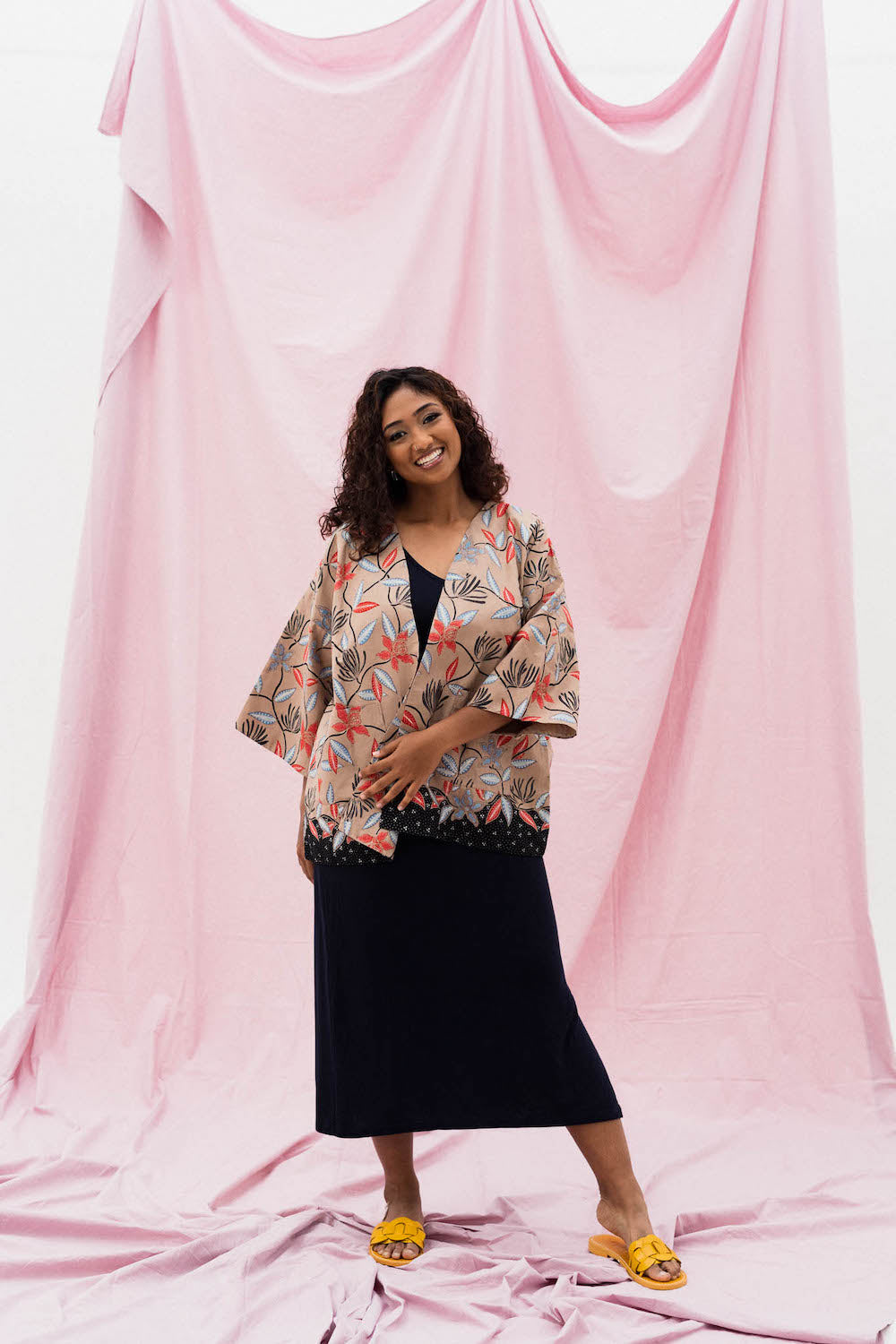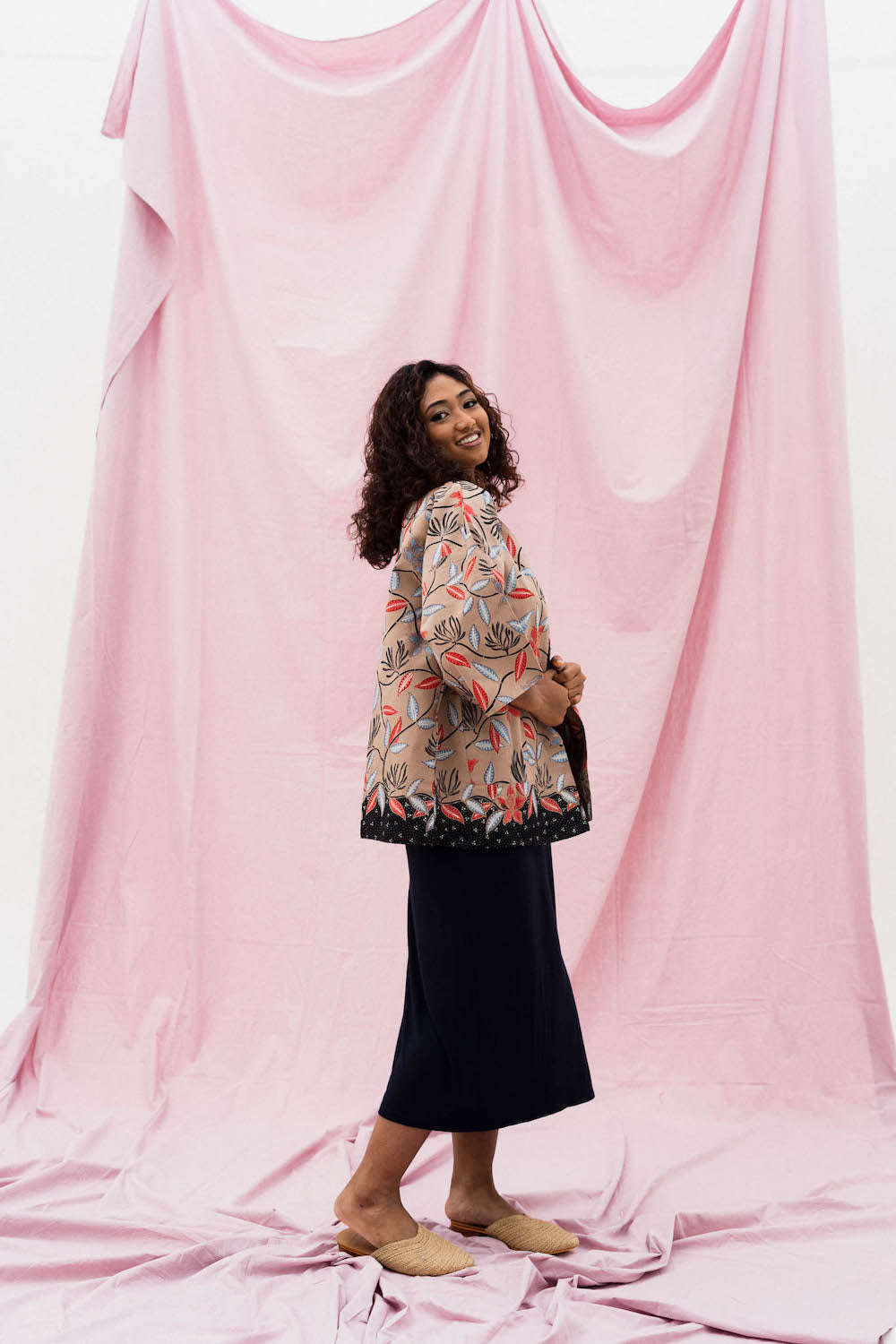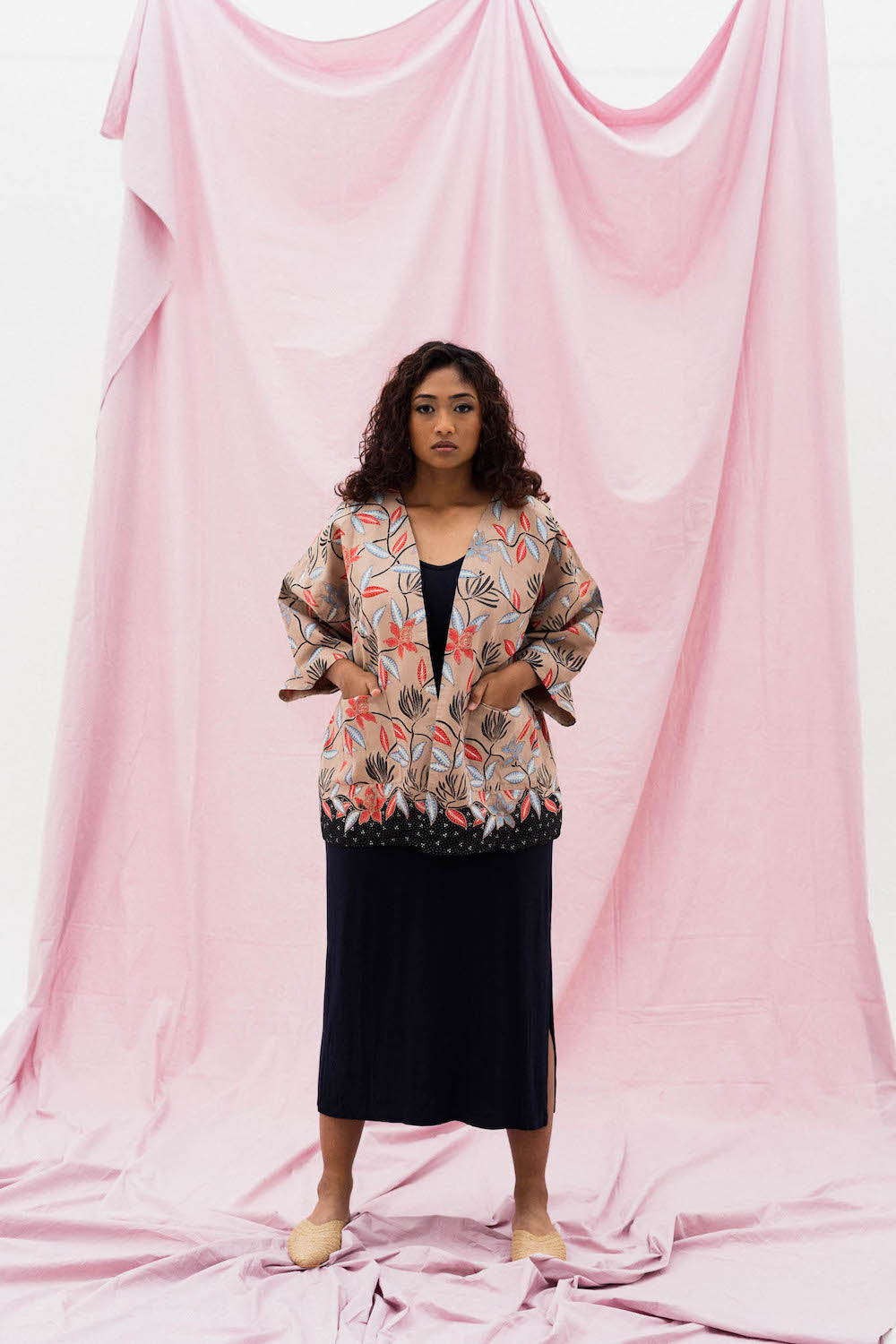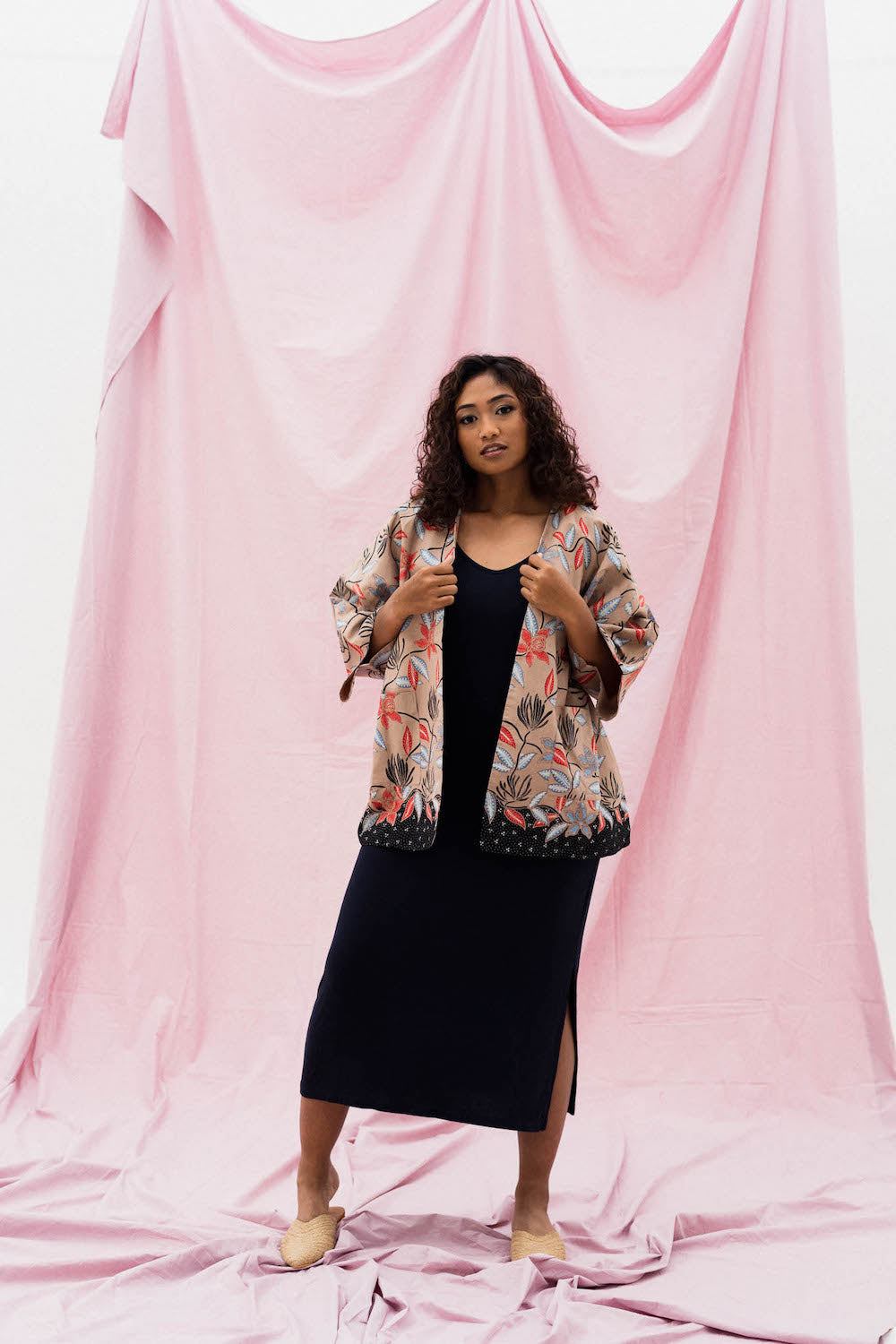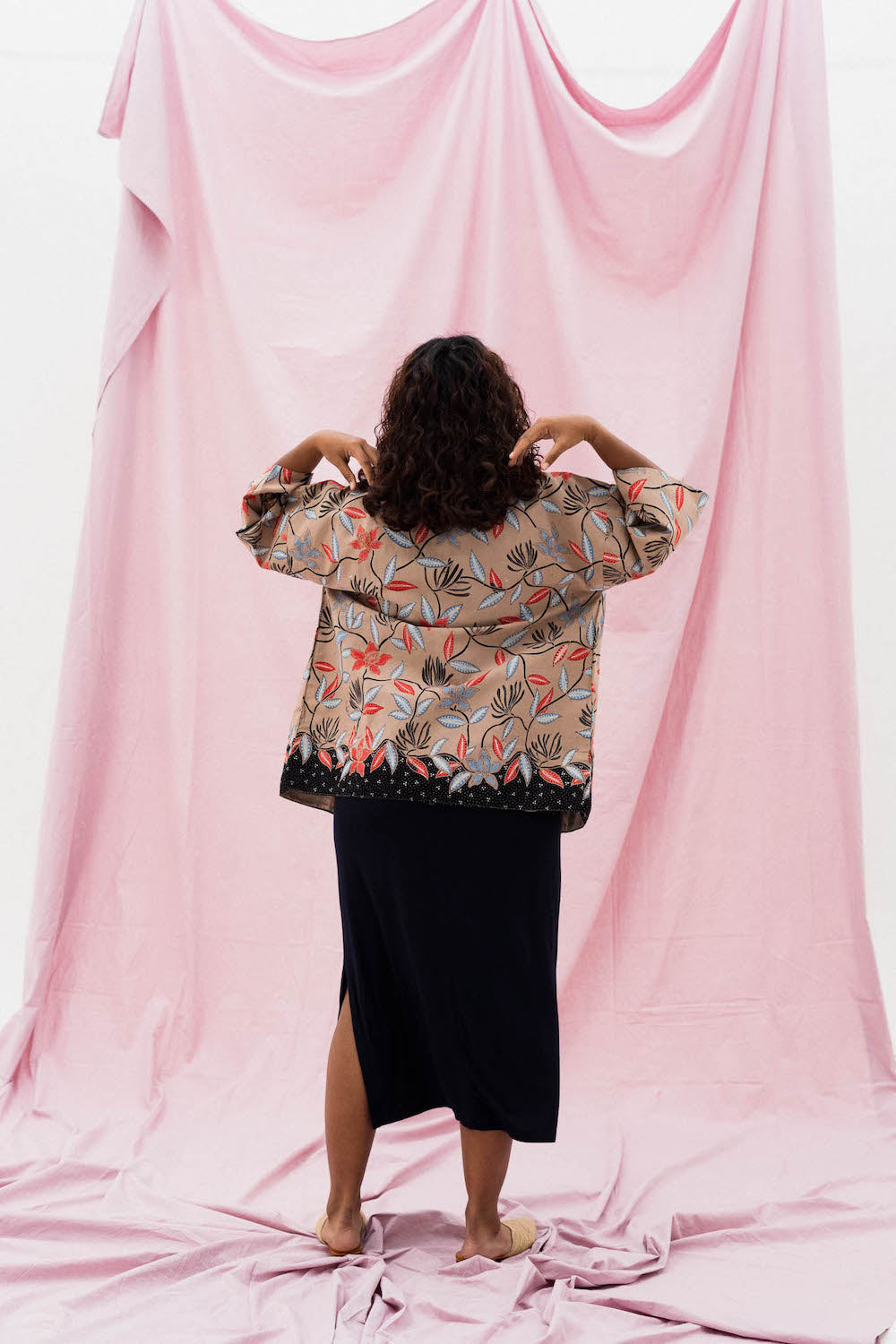 Description

Textile & Composition
Sizing

Shipping
Only one piece available. In stock and ready to ship. In stock and ready to ship.

The alluring Srei is a pared down batik beauty that does not try too hard. Featuring black borders on a neutral backdrop of floral patterns, it pairs well with daily looks — feminine and classic. Also available in crop jacket.

The jacket is fully lined for a luxurious feel, yet lightweight enough for any day of the week. Features drop shoulders, 7/8 sleeves and two pockets at the front.


- Batik is 100% cotton 
- Lining is 100% cotton


Designed one size for a versatile fit. Fits up to a UK16.

Fatin is wearing regular length sleeves, she usually wears UK12.  
Height: 5'4" (166 cm) | Bust 34"  
Waist: 31" | Hip 40"

Measurements across (taken with garment lying flat): 
Chest: 24"
Length: 27" 

Slight differences in size of print is expected as textile is handmade. However this is what makes each piece unique.

Free shipping within Singapore.
Free international shipping for orders $250 and above.
See our shipping FAQs.
We ship free in Singapore.
SGD10 flat rate for orders from Malaysia and Indonesia.
Free shipping for international orders SGD250 and above.
See our shipping FAQs.
Rooted in Tradition
Central Java
Believed to be the birthplace of batik, Central Java is well-known for high quality batik. We have partnered with two small teams of intergenerational artisans here since 2019 for our apparel needs.
See More makers
Sewn with care
Needle & Thread
After the batik process is completed, they are sent to our tailors based between Bandung & West Jakarta. Here, batik is sewn with care into apparel.
See More Makers