Nov 29, 2020
AKAR: The root of all things
It was the day after a spate of monsoon thunderstorms, so the skies were clear and blue. The trees provided no respite from the sun beating down our backs in Pasir Ris' mangrove-filled beaches. But Zafirah Zein and Nursheila, the women behind AKAR magazine were in high spirits. And they should be. Their third issue is currently complete and will soon go to print.

Publishing an independent magazine is no small feat. As the founders and editors of Singapore's first printed publication on stories and histories of Southeast Asia, they are no stranger to the arduous publishing process. But AKAR, meaning roots in the Malay language is the epitome of their commitment to amplifying voices from the region. We learn about their journey, from page to print.

I first saw AKAR on the shelves of the 2018 Singapore Writers' Festival bookstore and was taken by its name and beautiful imagery. When and how did it all start?

Zafirah (Z): We came up with the idea three years ago. One day, while having breakfast together, we were talking about how there's so much noise in the world and there was no publication that compelled us to read. We thought why not we create something that we both want to read?

Nursheila (N): But looking further back, we've always wanted to start something together. To write something — and it was always writing because we felt we didn't have any other talent, haha! So ever since we were in secondary school that was our dream. Zaf went to the U.S. after junior college to study journalism. Personally, I felt she had the background and experience to bring this idea to life.

Zaf has also done many projects independently, like publishing a photo book when she was in India. At that point, I realised it was possible to self-publish.

Z: Oh! I self-published a photo book after my internship in India. It was printed there too. It gave me confidence to know that publishing that book was something I wanted to do and I did it.

So was AKAR self-published in the beginning? That's incredible!

N: The first issue titled 'Foundations' was self-published in 2018. At first, we wanted to do everything by ourselves.

Z: We wanted to write everything. Do the research, put it together and design it. Just us. Then we quickly realised it was impossible. So we got contributors and a designer on board. Today it's quite fluid between Sheila and I as co-editors. But in a sense, we are also the logistics officer, the treasurer, the business development manager and everything in between!

N: The second issue titled 'Motion' was published by Math Paper Press. So they helped looked after various parts of the publishing process. But issue one was a very steep learning curve for us.

Z: Self-publishing meant we had to market, sell and reach out to book fairs and bookstores, and even deliver the magazines on our own.

N: And the magazines were also stored at our houses.

Z: But Alhamdulillah (All praises to God), we sold out our first issue with a print run of 500 copies. We didn't expect so many readers to reach out to us and say: "Thank you for publishing this because I've always wanted to read about these topics".

After issue one, some readers wanted to contribute to the next issue of the magazine because they were working at a professional or personal capacity on the themes we discuss in AKAR – from culture, history to language.

N: During Singapore Writers Festival 2018, there was a session on self-published magazines. I remember Mekong Review's editor Minh Bui Jones being on the panel and he mentioned something that we remember to this day. He said that when you publish a magazine, it's not a matter of demand and supply. You're not supplying to meet a demand, but you're creating a demand by putting the product out there – people who publish a magazine cannot be out there to make money.

Hence from the very beginning we understood that not making a money was a huge possibility, but what we were doing was to create something we had not yet seen.

Z: Going back to why we started AKAR, we took a lot of inspiration from publications in other regions like the Middle East and South Asia. There are a lot of good, independent projects in these regions, like Brownbook. We were not seeing as vibrant a space in Southeast Asia, or this region is very underrepresented in the publishing scene. Personally on social media, everyone knows about what's going on with the Middle East diaspora, African diaspora but with Southeast Asia, no one really knows where.


"The first issue was central to our overall theme: to ground ourselves to where we come from. So we started 'Foundations' as an exploration of our origins and our history."

- Zafirah Zein
on AKAR Issue One, Foundations
The first issue was titled 'Foundations', followed by 'Motion' and the upcoming issue titled 'Formation'. I sense a flow here. Tell us how these themes connect.

N: Even though we were unsure how AKAR would take off at the start, we didn't want this to be macam hangat-hangat tahi ayam (A Malay proverb describing a lack of commitment for the long haul). We wanted AKAR to be something substantial. From the beginning, we committed ourselves to having five issues. And we decided that there's going to be a journey throughout all five issues.

Z: The first issue 'Foundations' was central to our overall theme: to ground ourselves to where we come from. So we started 'Foundations' as an exploration of our origins and our history. The issue was mainly on Singapore and with contributions from Singaporean artists and writers. It talks about things that are central to humanity and our shared values.

After grounding yourselves, then you continue with the journey of life — much like moving. That's why we came up with 'Motion' next but that was difficult too!

N: It's such a dynamic theme. At one point we were thinking why did we even choose motion to capture in print? It was so hard. I remember the challenge of selecting a photograph for the cover – one that could depict motion as energy.

And now we have 'Formation'. After moving and exploring, we come together for a purpose or for a cause. It is not aimless wandering.

"So at first you resist something. Then you align yourself with like-minded individuals to a cause. And then it's not just resisting, but you work on restoring what is lost."

- Nursheila
on AKAR Issue Three, Formation
What can we look forward to in 'Formation', the third issue of AKAR?

Z: There are three sub-themes within the issue: Resist, Align, and Restore. As a bumper issue, we are addressing topics we feel strongly for like capitalism and colonialism.

N: We wanted to address these issues in the order of the sub-themes. So at first you resist, like resisting an idea or concept. Then you align yourself with like-minded individuals to a cause. And then it's not just resisting, but you work on restoring what is lost.

Aqilah (Gypsied): Wow. This needs to be published in 2020, with all that is happening around us.

N: We thought of that as well! With this issue, one challenge we faced was how our contributors were keen on writing mainly about resistance.

Z: There seems to be a lot of resistance going on right now!

N: With that, it proved a challenge for us to also address the other themes (align and restore) in our upcoming issue.

Z: So with restoring, we were thinking about restoring language, restoring nature and restoring our environment. A lot of the contributors who are writing about resistance are also working on restoration.

N: Which is great in practice, right? I think at the discourse level, individuals are resisting. And there's still a lot to be done. One story of restoration is Soultari Amin, a Malay dancer, cheoreographer and arts educator who won the 2017 Singapore Youth Awards. He organised a dance production called Mak Mak Menari for this year's M1 Fringe Festival, where he gathered retired Malay dancers – all mothers now – to come back and perform together.

This production and experience restores Malay dance as folk dance for the common people. Today Malay dance has become fine art, and there is an overemphasis on things like "Oh, this is how you should be pointing your fingers!" or "This is how your costume should look like!". In the past, Malay dance used to be a community activity for everyone. This is one piece to look forward to in the issue.

N: We also have contributors from the region. In this issue, an artist from Bandung, Indonesia will provide illustrations to the sub-themes Resist, Align and Restore. Accompanying each illustration will be a commentary about the politics and situation in Indonesia. Also, for every issue, we feature nature showcasing Southeast Asia's geography through photographic journals – from the mountains in Java as well as Ore Huiying's ongoing photographic project on the Mekong River. We are featuring forests for Issue Three.

Looks like we have much to look forward to in Issue 03! Last question, is there a person you both look up to for inspiration?

Z: Someone that inspires us is the late Yasmin Ahmad, who we included in issue two. We were very happy that the publication of Motion coincided with her 10-year death anniversary and we could pay a tribute to her. That was quite big for us because we managed to meet Sharifah Amani and Abang Jason (stars of the heartfelt film on interracial love story, Sepet) in person.

I think she remains a constant inspiration. We went through her work in films, ads, her poetry and quotes from her books again when we were doing issue two and we were like Wow. To follow in her footsteps would be a dream. I think a lot of what she speaks for, we hope to do the same in AKAR.

AKAR's third issue, Formation, is slated for release in 2021. Issue 02, Motion is now available on our webstore.

To follow in the footsteps of the late Yasmin Ahmad would be a dream. I think a lot of what she speaks for, we hope to do the same in AKAR.

- Zafirah Zein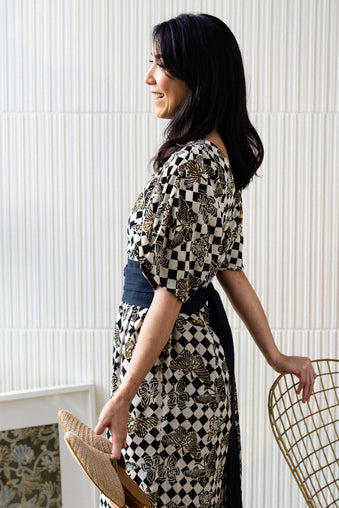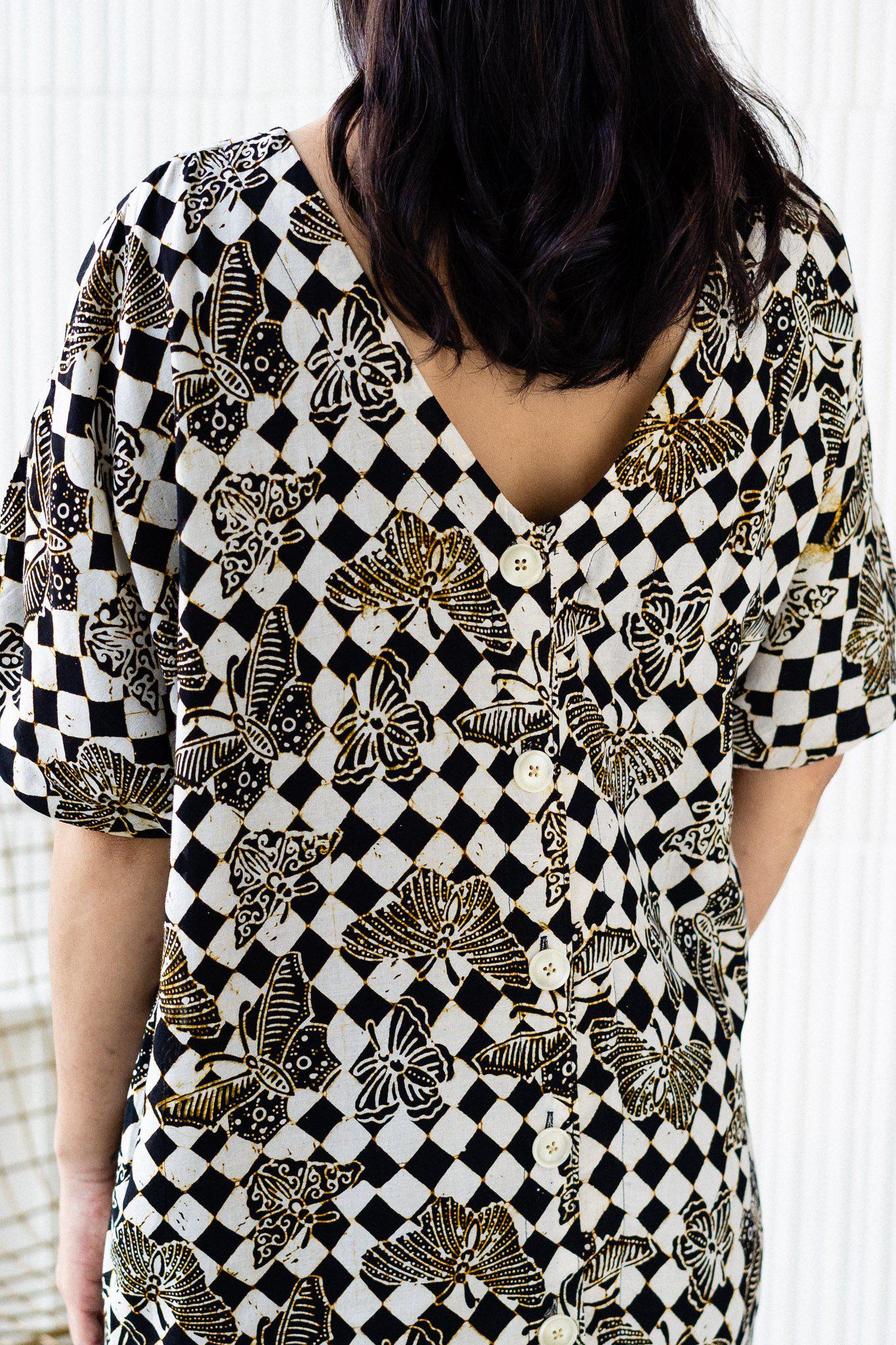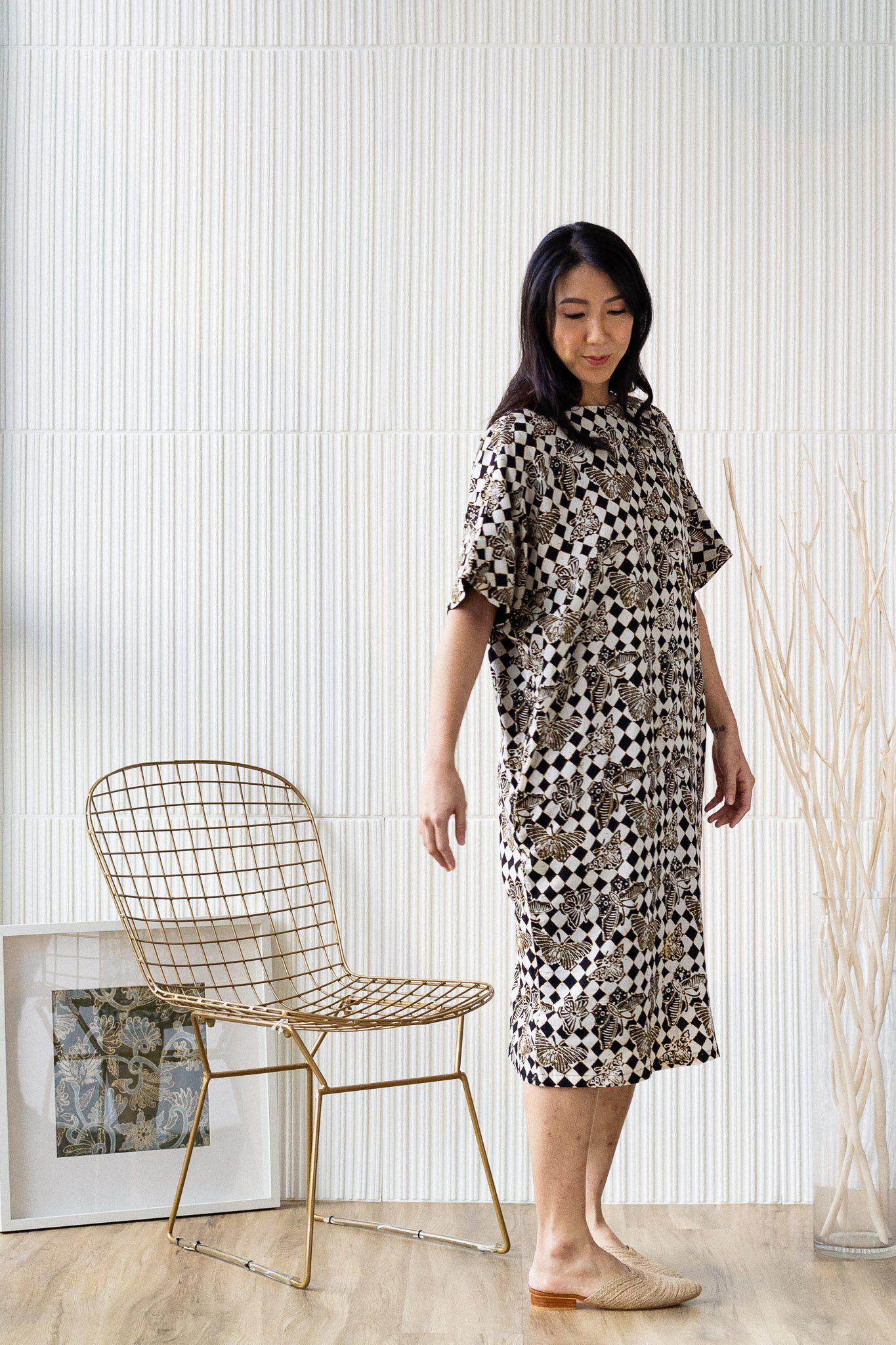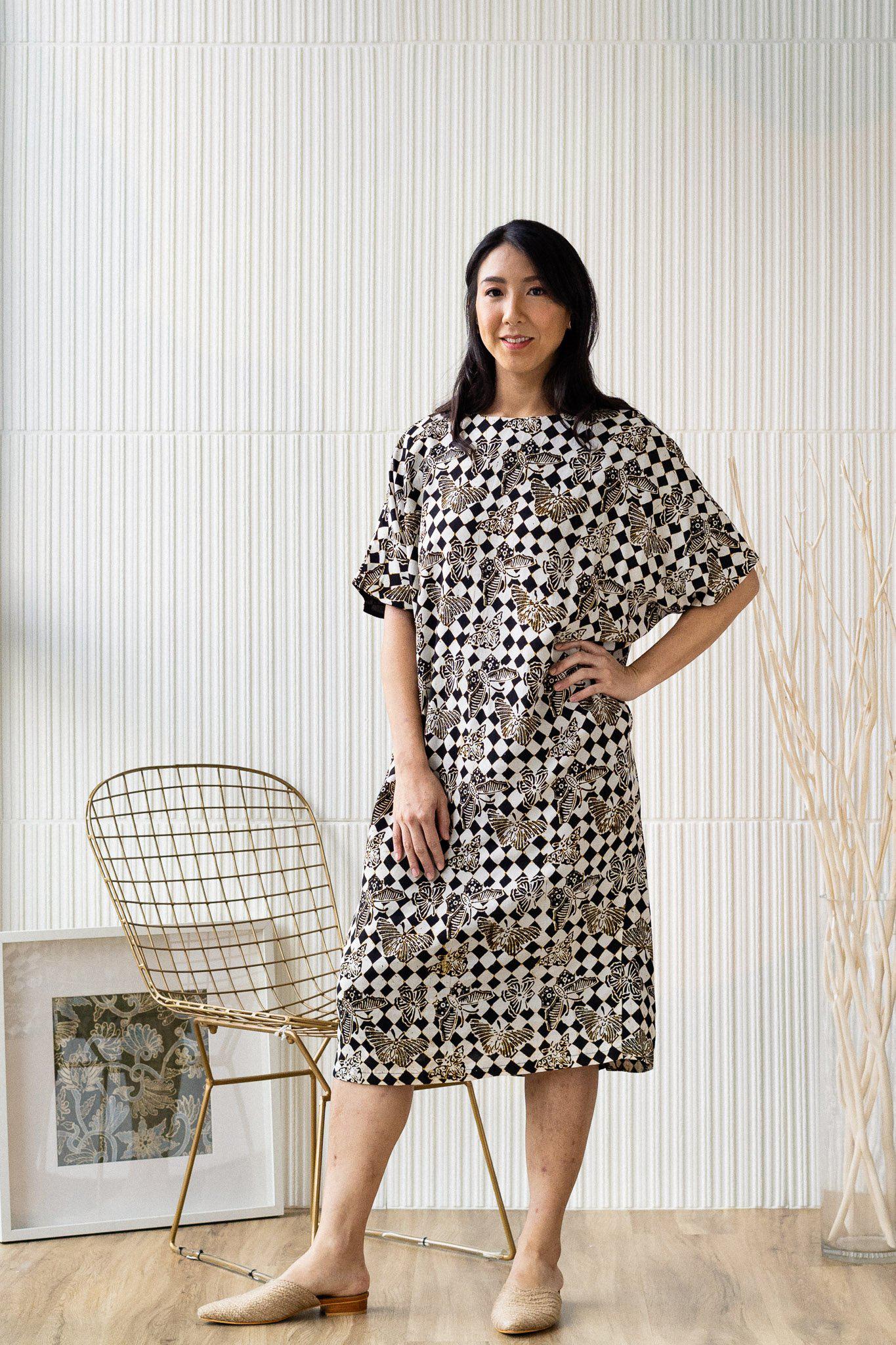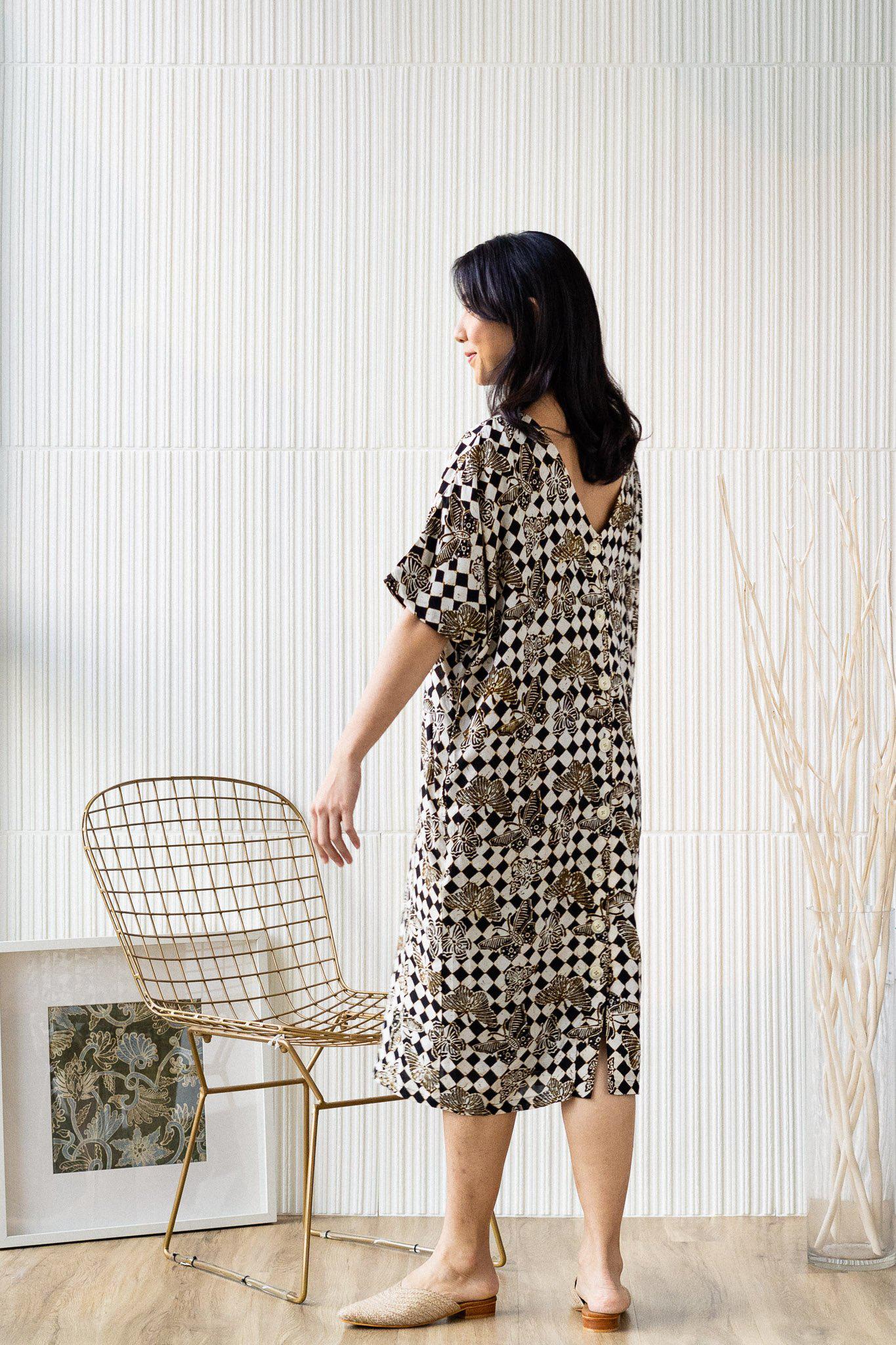 Batik Cocoon Dress | Dewi
Batik Open Jacket | Taman Sari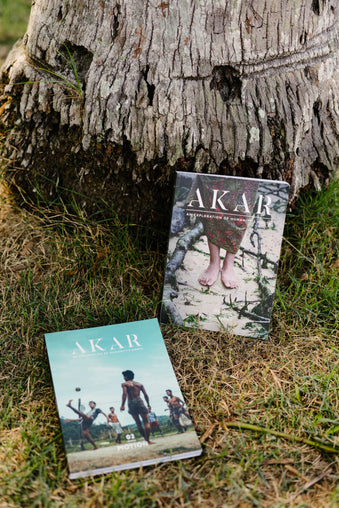 AKAR Magazine | Motion