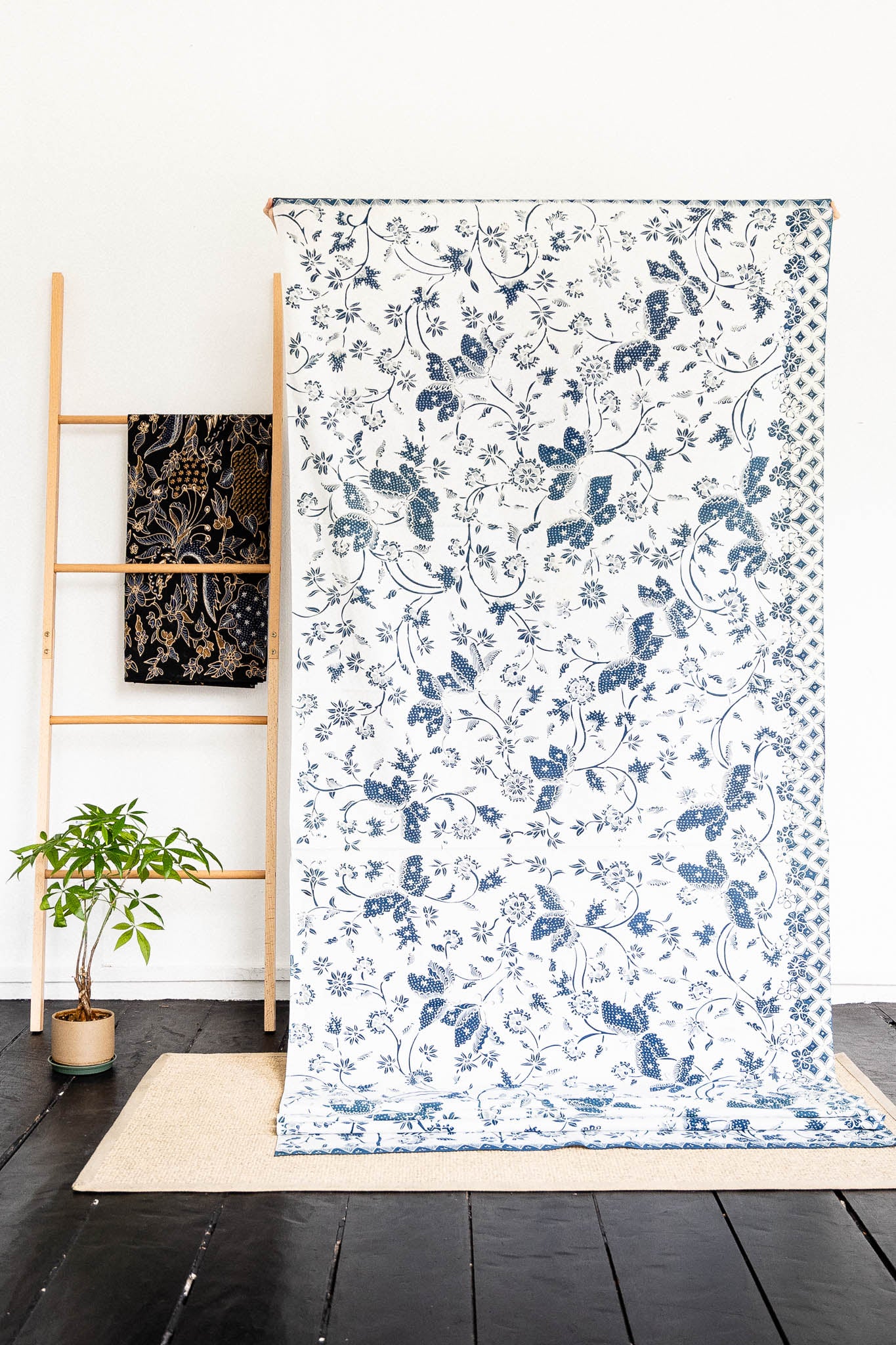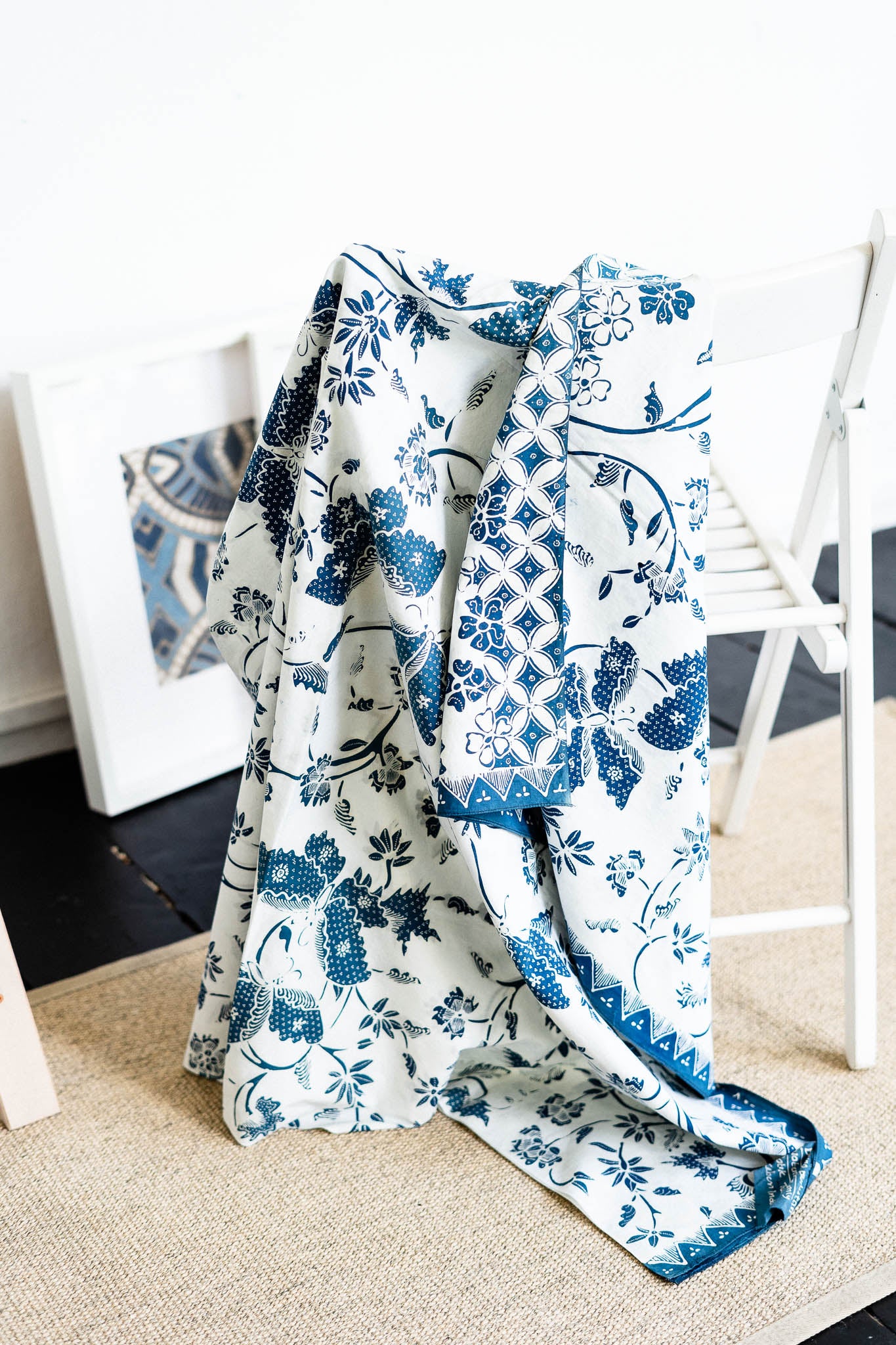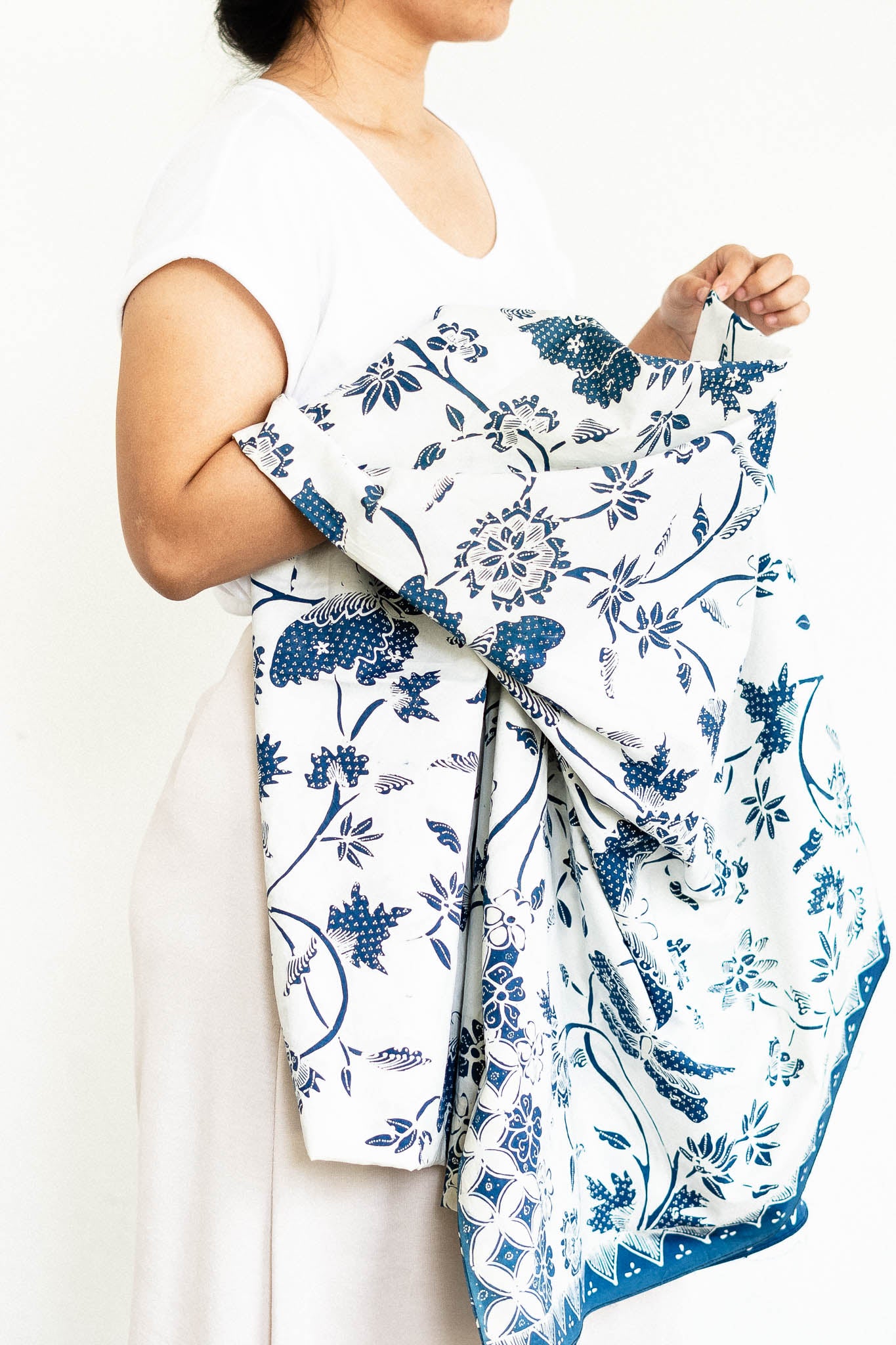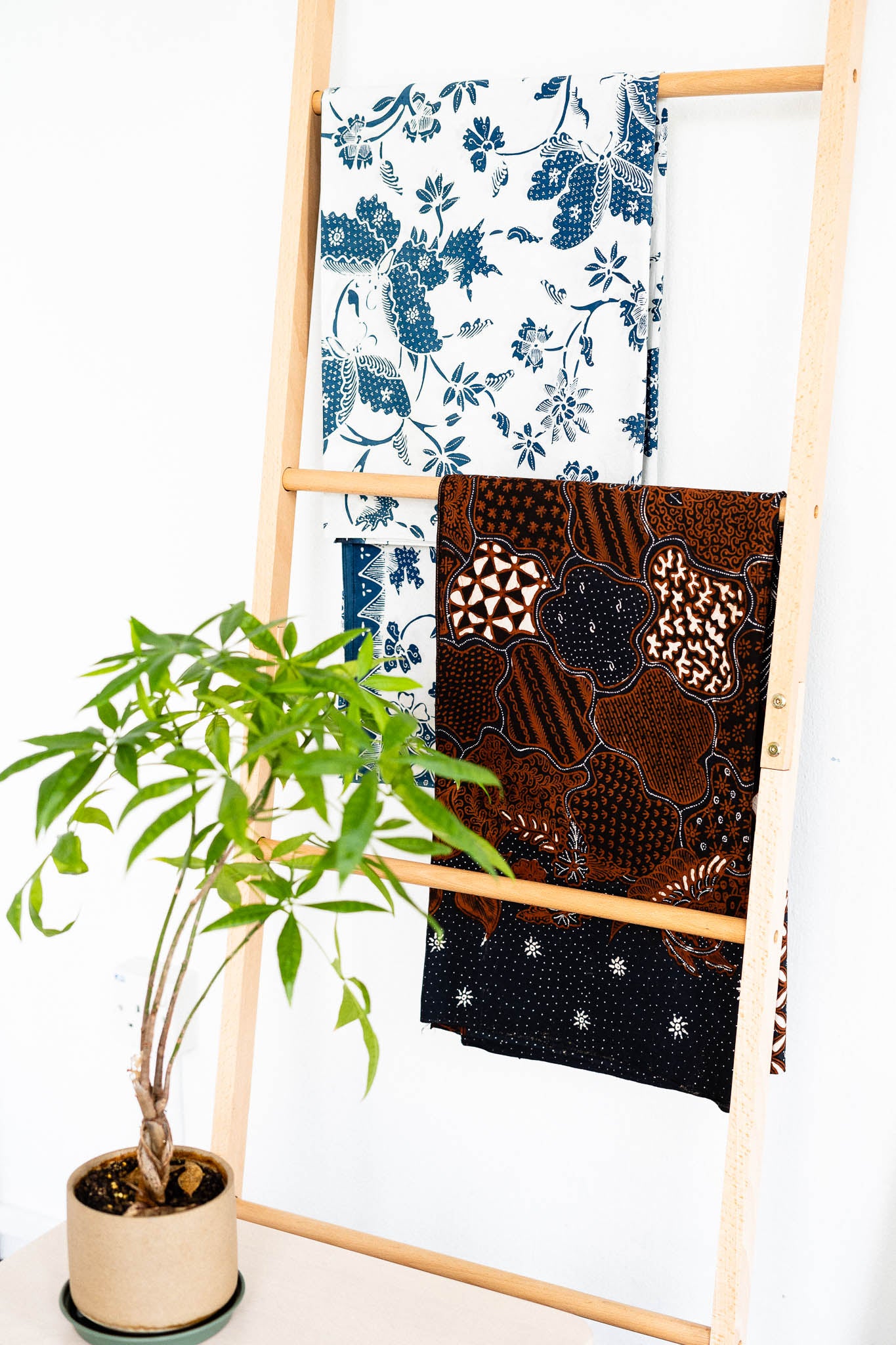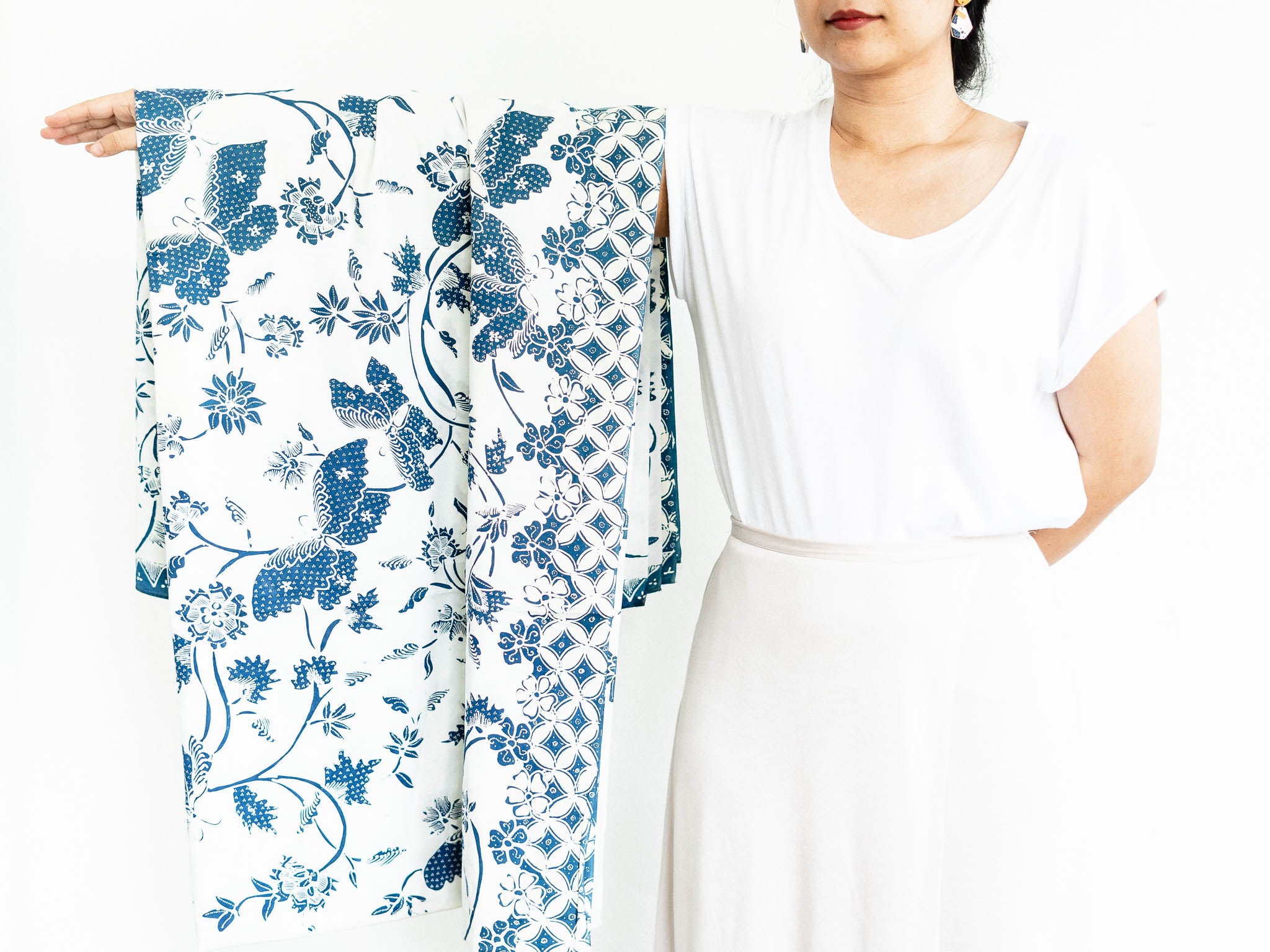 Imagine a garden. Soothing to the soul, a sight to behold. 
Butterflies fill this entire batik piece. Classically, these insects are synonymous with purity. A butterfly emerging from its cocoon. A state of being reborn. The colour white symbolises the Javanese's spiritual nature and the qualities they take to heart: honesty, love and forgiveness. 
Meanwhile, the kawung motif borders this batik lengthwise. As a symbol of community, it adds a deeper layer to the overall meaning of this art. Perhaps it is an ode to the outcome of community and kinship. No man is an island. A pair of hands may tend to a garden, but many hands together make a beautiful one. 
Textile
Time taken to make: 1 month. 
A white backdrop in batik is rare. Despite leftover wax on minor areas, this piece is close to perfection. 
All dyes used are natural only, with the blue hues seen here extracted from the indigofera plant. 

Other things you should know
Exclusive, only one piece available.
Comes gift ready and packaged in our custom gift box and tissue.
Textile measures 2.4m x 1m.
Base of batik is primissima cotton, with a thread count of 100% cotton.
Textile is drawn and dyed by batik artisans, minor inconsistencies are to be expected. However this is what makes each piece unique.
Free shipping within Singapore.
Free international shipping for orders $250 and above.
We ship free in Singapore.
SGD10 flat rate for orders from Malaysia and Indonesia.
Free shipping for international orders SGD250 and above.
See our shipping FAQs.
Rooted in Tradition
Central Java
Believed to be the birthplace of batik, Central Java is well-known for high quality batik. We have partnered with two small teams of intergenerational artisans here since 2019 for our apparel needs.
See More makers
Sewn with care
Needle & Thread
After the batik process is completed, they are sent to our tailors based between Bandung & West Jakarta. Here, batik is sewn with care into apparel.
See More Makers