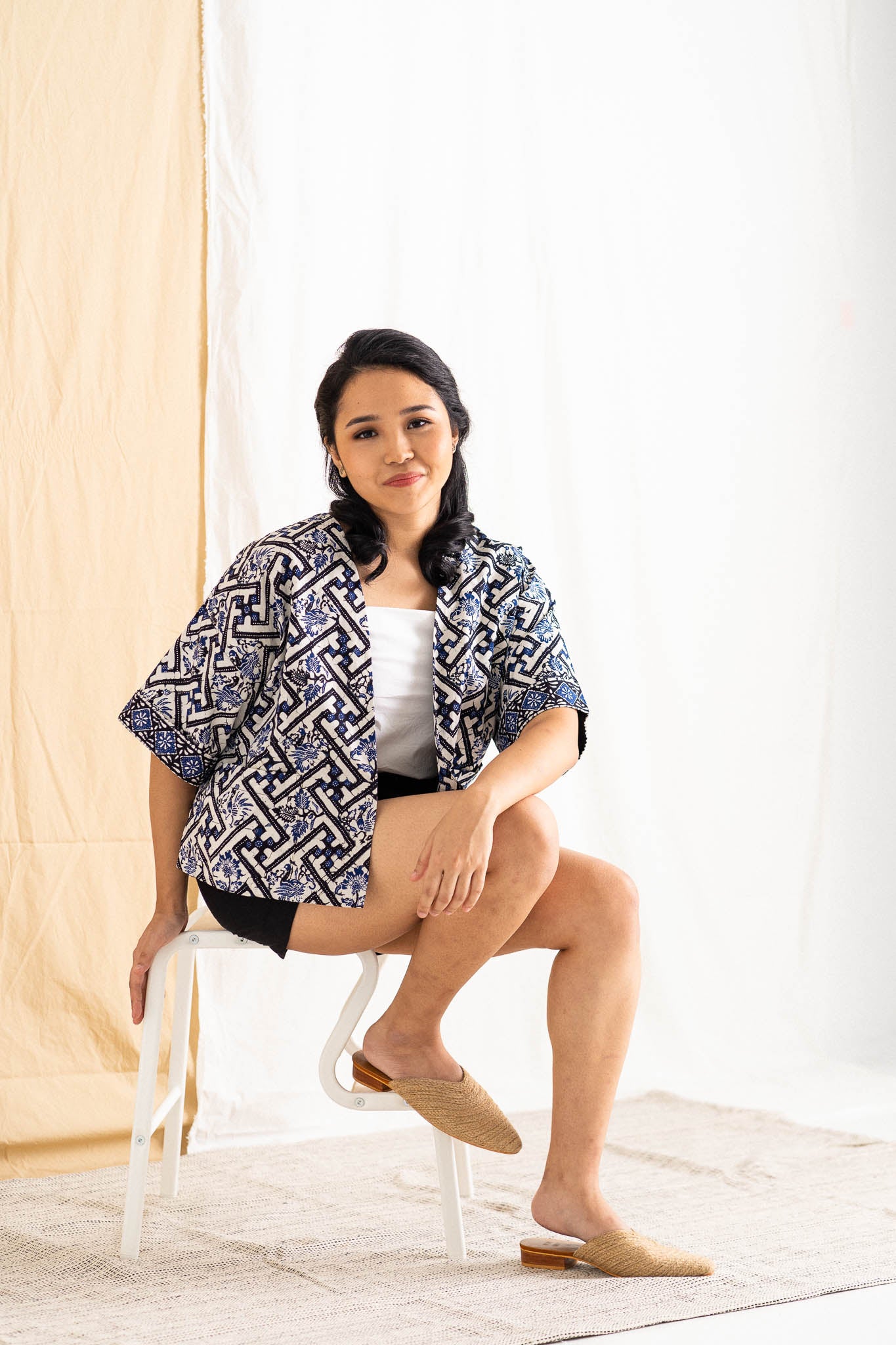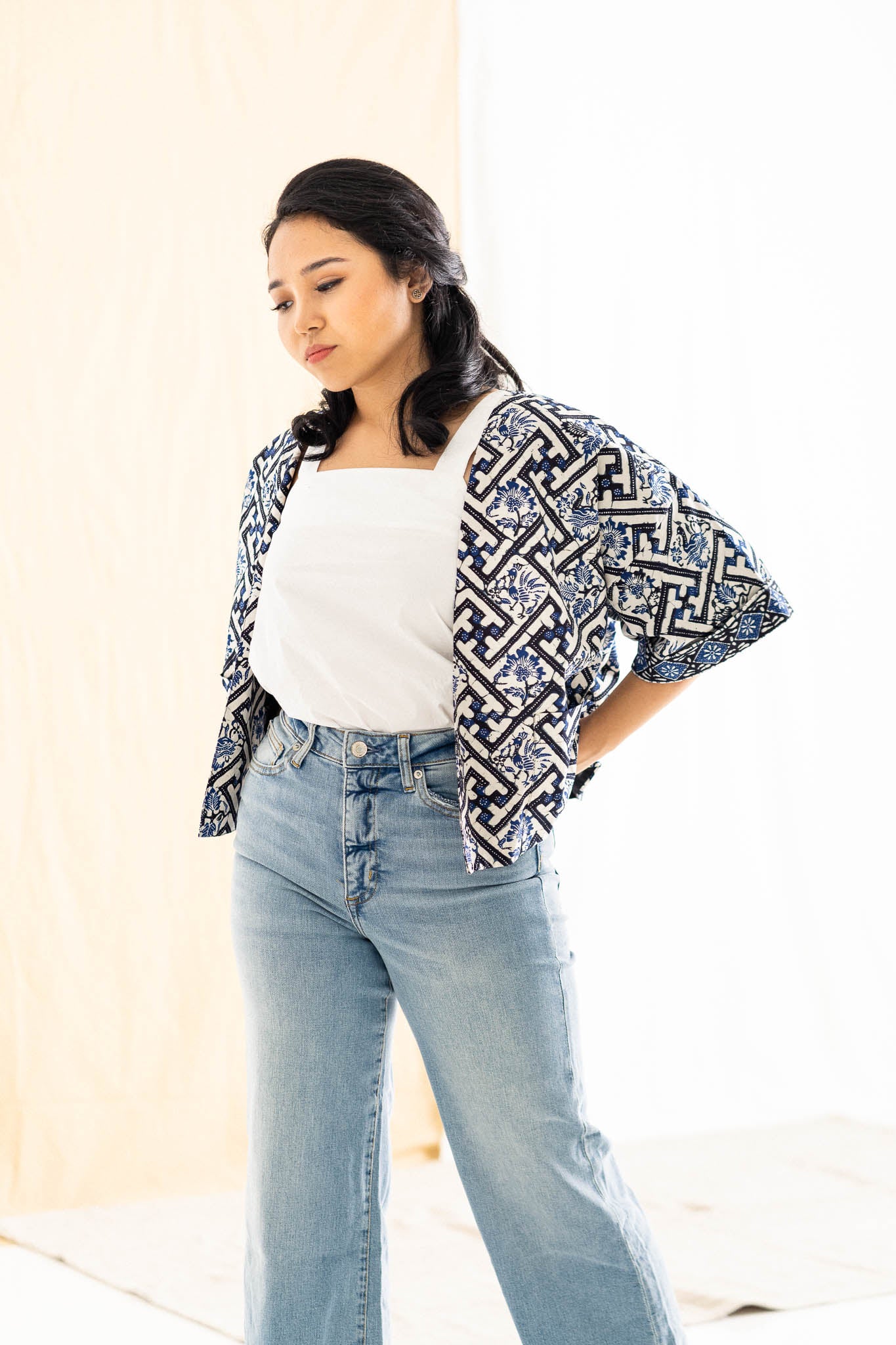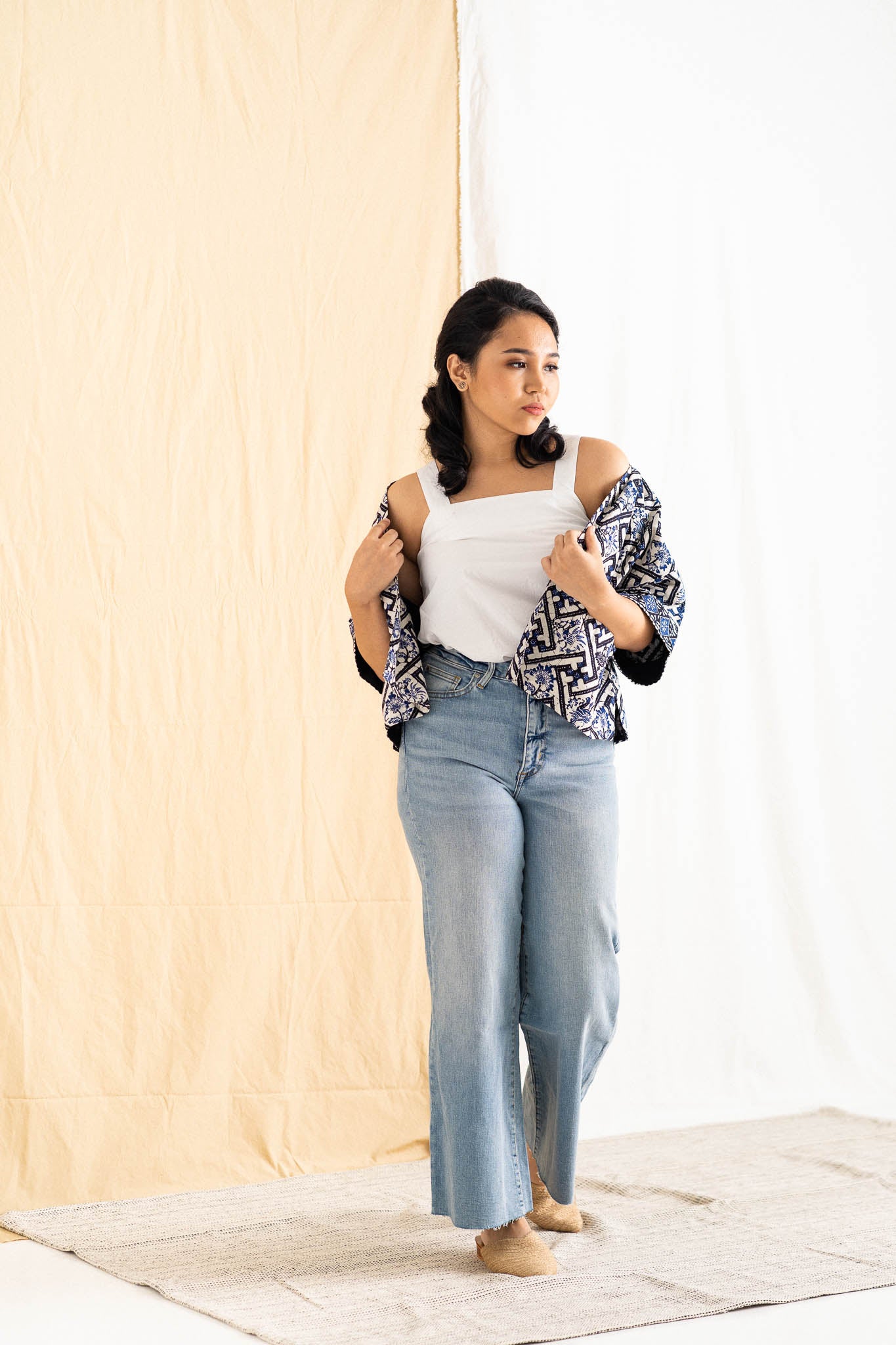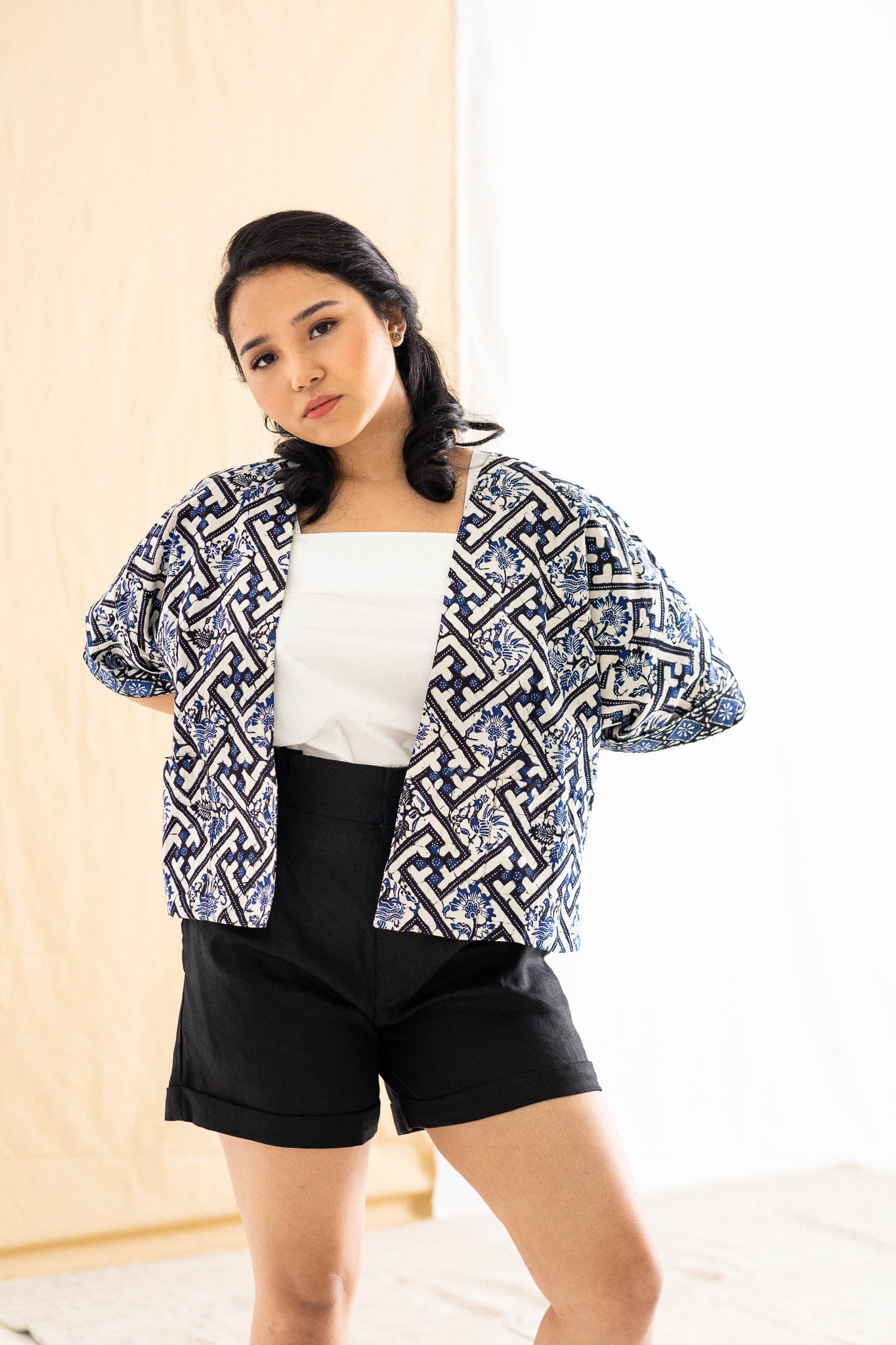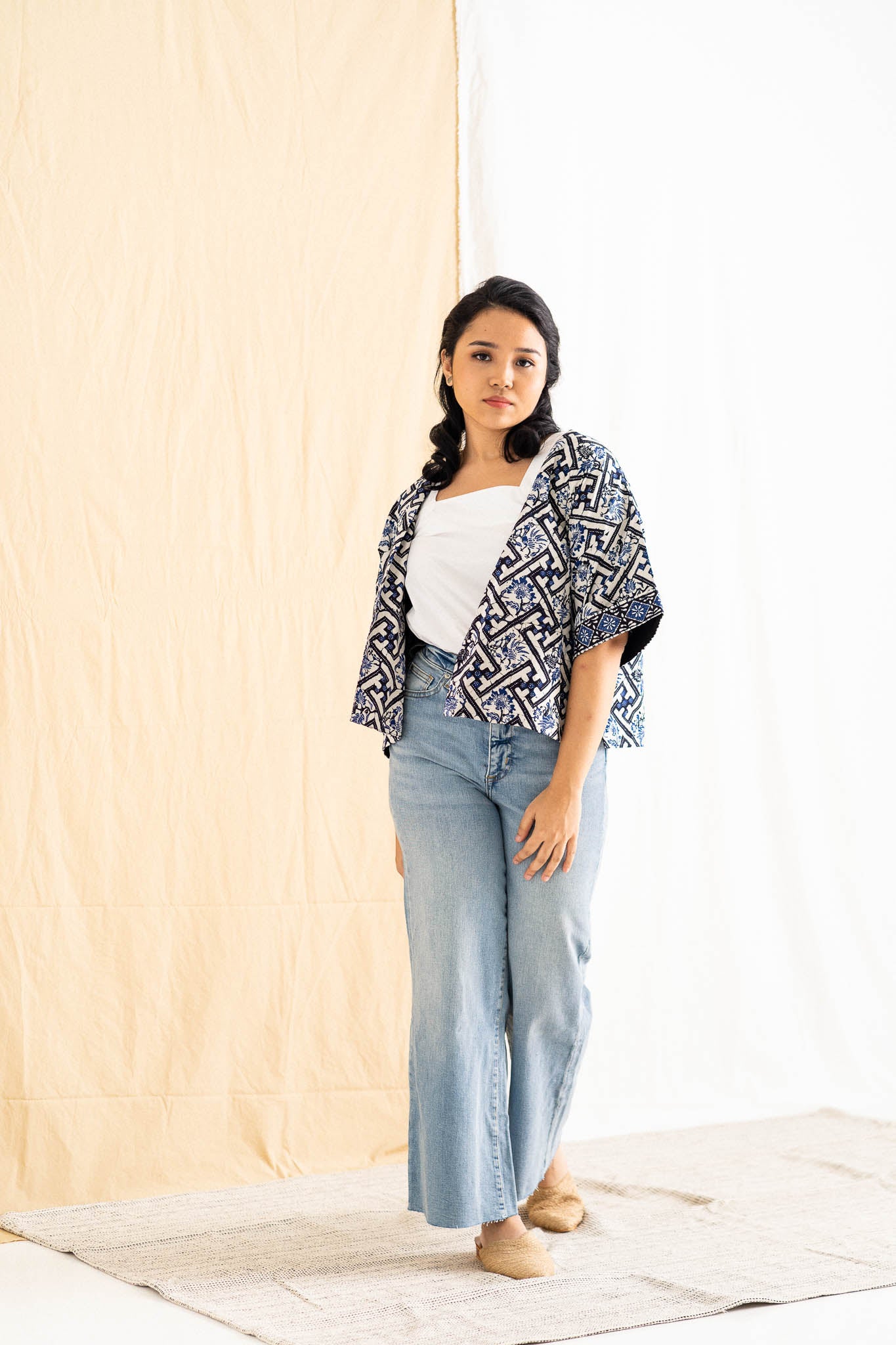 Batik Crop Jacket | Teduh Indigo
Description

Textile & Composition

Sizing

Shipping
Last piece left.

For balmy summer days, nights and beyond.

The Crop Jacket was born out of necessity — a stylish companion to throw on regardless of weather. 

The Teduh motif is an iteration of a historical motif called Bata, which symbolised laying bricks and building foundations. In Teduh, we layer the story of this motif with the innate human wish for meaningful connections. We turn to relationships and communities that help us feel safe and heard. Teduh, meaning shelter in Malay signifies seeking safe harbours.

The jacket is fully lined for a luxurious feel, yet lightweight enough for any day of the week. Features cuffed sleeves, two pockets at the front and side slits.




Hand stamped batik made by a family of artisans in Solo, Central Java. Hand

 wash on cold to retain its colours and beauty.




- Batik is 100% cotton
- Lining is 100% cotton


Slight differences in pattern placement is expected as textile is handmade. However this is what makes each piece unique


Designed one size for a versatile fit. Fits up to a UK14.




Sophiea regularly wears UK10  

Height: 5'1" (155 cm) | Bust 36" 




Measurements across (taken with garment lying flat):




Ships free within Singapore. Pre-orders will be shipped separately from in-stock items.

Free international shipping for orders $250 and above. See our shipping FAQs.
We ship free in Singapore.
SGD10 flat rate for orders from Malaysia and Indonesia.
Free shipping for international orders SGD250 and above.
See our shipping FAQs.
Rooted in Tradition
Central Java
Believed to be the birthplace of batik, Central Java is well-known for high quality batik. We have partnered with two small teams of intergenerational artisans here since 2019 for our apparel needs.
See More makers
Sewn with care
Needle & Thread
After the batik process is completed, they are sent to our tailors based between Bandung & West Jakarta. Here, batik is sewn with care into apparel.
See More Makers